Professional Auto Repair Services in Bethlehem, PA
Lehigh Fleet Services offers auto repair and maintenance services for customers in the Bethlehem, PA area. We're a family owned shop that takes pride in delivering auto repair services that keep your car safe on the road.
As a NAPA AutoCare Center, we use quality auto parts in your car at competitive prices. Our auto mechanics can perform a wide range of car repairs and services including oil changes, brake service, shocks and struts, tires and more. Most repairs are backed by a 24 month/24,000 mile nationwide warranty giving you peace of mind on the road.
We are committed to providing quality car repairs and great service to our customers. We would love the opportunity to earn your business. Please stop by our shop or call us at 484-241-3211.
Get an Auto Repair Estimate
Our repair estimator tool powered by RepairPal can give you a quick auto repair estimate. In addition to providing quotes, you can make appointment requests to schedule your auto service.
Our online estimator is a great tool for a quick car repair quote, but some estimates will require a visit to our shop in order to get the most accurate estimate. If you're in the Bethlehem area, stop by to get an estimate for your auto repair.
Car Care Tips
Know when to get your brakes checked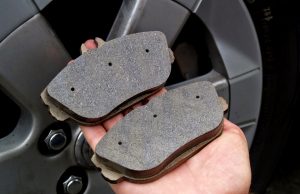 Signs you may need to replace Brake Pads:
Knowing when you need to replace brake pads or rotors is essential for maintaining the safety and performance of your vehicle. Here are some signs that indicate it's time to replace either the brake pads or rotors:
Squeaking or Squealing Noises: High-pitched noises when braking could be a sign that the brake pads have worn down to the point of needing replacement. Many brake pads have wear indicators that produce a noise when the pads are worn out.
Grinding Sounds: A grinding noise when applying the brakes is often a more severe sign that the brake pads have worn down completely, and you may be damaging the rotors. Immediate attention is required.
Reduced Thickness: You can visually inspect the brake pads through the wheel spokes. If the pad material is less than a quarter of an inch thick, it's time to replace them.
Uneven Wear: If one pad is significantly more worn than the others, it could indicate a caliper problem or uneven pressure distribution, and you may need to address the underlying issue.
Warning Lights: Some vehicles have brake pad wear sensors that trigger a warning light on the dashboard when the pads are worn out.
Symptoms that Brake Rotors need to be replaced: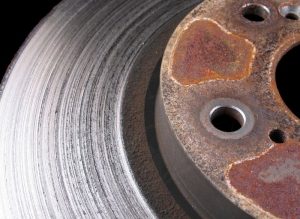 Vibration or Pulsation: If you feel a pulsating sensation or vibration when applying the brakes, it may indicate that the brake rotors are warped or unevenly worn. In such cases, resurfacing or replacement may be necessary.
Grooves or Scoring: Inspect the surface of the rotor for deep grooves or scoring. If you can feel these with your fingernail, the rotor is likely too damaged to be resurfaced and should be replaced.
Visible Cracks: Cracks on the surface of the rotor are a serious issue, and the rotor should be replaced immediately.
Rust and Corrosion: Excessive rust or corrosion on the rotor surface can affect braking performance. While some surface rust is normal, heavy corrosion may require rotor replacement.
Thickness Variation: Measure the thickness of the rotor at various points using a micrometer. If there's significant variation, it may indicate uneven wear, and replacement may be necessary.
Mileage and Maintenance Schedule: Follow the manufacturer's recommendations for rotor replacement. Some rotors may need replacement after a certain number of miles or based on the thickness specified by the manufacturer.
Brake Fluid Leaks: If brake fluid has contaminated the rotor surface due to a leaking caliper or brake line, the rotor may need replacement.
Your car is an investment, maintenance and periodical inspections for functionality will prolong the life of your vehicle.