Professional Auto Repair Services in Bethlehem, PA
Lehigh Fleet Services offers auto repair and maintenance services for customers in the Bethlehem, PA area. We're a family owned shop that takes pride in delivering auto repair services that keep your car safe on the road.
As a NAPA AutoCare Center, we use quality auto parts in your car at competitive prices. Our auto mechanics can perform a wide range of car repairs and services including oil changes, brake service, shocks and struts, tires and more. Most repairs are backed by a 24 month/24,000 mile nationwide warranty giving you peace of mind on the road.
We are committed to providing quality car repairs and great service to our customers. We would love the opportunity to earn your business. Please stop by our shop or call us at 484-241-3211.
Get an Auto Repair Estimate
Our repair estimator tool powered by RepairPal can give you a quick auto repair estimate. In addition to providing quotes, you can make appointment requests to schedule your auto service.
Our online estimator is a great tool for a quick car repair quote, but some estimates will require a visit to our shop in order to get the most accurate estimate. If you're in the Bethlehem area, stop by to get an estimate for your auto repair.
Car Care Tips
Prepare your car for spring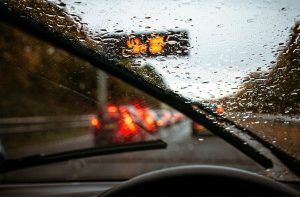 Are your wipers ready for the rainy season?
Spring has officially arrived, and with it comes the promise of warmer weather, blooming flowers, and unfortunately, rainy days. Worn-out wiper blades can compromise your visibility and safety on the road, especially during heavy rain or storms. Therefore, it's essential to inspect your wiper blades and replace them if they show signs of wear and tear. By doing so, you'll be able to drive confidently in any weather condition and protect yourself and your passengers from potential accidents. Make sure to take the time to check your wiper blades this spring and stay safe on the road.
Spring Check List. Unsure? Let one of our skilled mechanics inspect your vehicle today, giving you peace of mind.
Wiper Blades – Inspect functionality to make sure that nothing will obstruct your vision. (Streaking, smearing, blade tears or damaged arms)
Washer Fluid – Using the right fluid during the winter will assist in melting away snow and ice. We will check to make sure that all nozzles are spraying correctly.
Lights and Signals – All around inspection to make sure you have the best visibility. (blubs & lenses – making sure your bulbs are functioning and lenses are free of residue and fog.)
Defroster(s) – Manual inspection to ensure that all defrosters are operating to OEM specifications.
Tires – Protect your safety by making sure that your tires have the correct tread, air pressure and are balanced and properly aligned.
Knowing when to replace your wiper blades
Typically, wiper blades should be replaced every six to twelve months, depending on usage and weather conditions. However, there are several signs to look out for that indicate your wiper blades need replacing sooner. These include streaks or smears on your windshield, chattering or skipping of the wiper blade across the glass, and a visible crack or tear in the rubber blade. Additionally, if you notice that your wiper blades are not properly cleaning your windshield, it's time for a replacement. It's essential to prioritize the maintenance of your wiper blades to prevent reduced visibility and ensure a safe driving experience.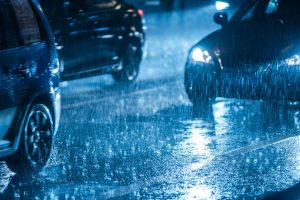 7 Tips for driving safely in rain
Slow down: Wet roads mean reduced traction, so it's important to slow down and leave plenty of distance between you and the car in front of you. Avoid sudden braking or acceleration, which can cause your vehicle to skid.
Turn on your headlights: Rain reduces visibility, so turning on your headlights can help you see better and be seen by other drivers. Use your low beams, as high beams can reflect off the rain and make visibility worse.
Keep your windshield wipers in good condition: Make sure your windshield wipers are working properly and replace them if they are worn or streaking. Clean your windshield before driving and use windshield washer fluid to keep it clear.
Avoid standing water: Try to avoid driving through puddles or standing water, as you don't know how deep they are or what's underneath. If you do have to drive through standing water, take it slow and try to stay in the middle of the road.
Be aware of hydroplaning: Hydroplaning can occur when your tires lose contact with the road due to a layer of water on the surface. If you feel your car start to hydroplane, ease off the gas pedal and steer straight until your tires regain traction.
Stay focused: Avoid distractions while driving in the rain, such as using your phone or adjusting the radio. Stay focused on the road and the other drivers around you.
Plan your route: If possible, plan your route to avoid areas that are prone to flooding or heavy rain. Check the weather forecast before you leave and be prepared to change your plans if necessary.
Your car is an investment, maintenance and periodical inspections for functionality will prolong the life of your vehicle.