Preventive Maintenance & Inspections
Preventive maintenance is the single most important thing you can do to keep your vehicles on the road and extend its life. Our preventative maintenance inspection offers a systematic and thorough approach to vehicle maintenance and repair. We help fleet managers track scheduled PM services, necessary repairs, recommendations and report of services performed. Our Preventive Maintenance program includes:
Brakes | Suspension | Electrical | Drive-train | Exhaust | Belts | Hoses | Pulleys | Pumps | Cooling system | Fluids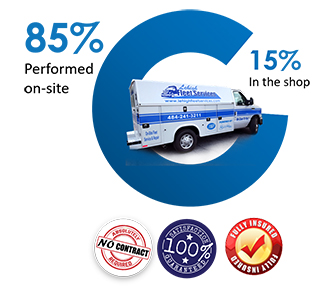 What you can expect:
We remind

you when Oil Changes or other maintenance is needed

Customized service plan

to fit your needs and requirements

Complete historical record

of all maintenance and repairs on a vehicle

DOT

inspection tracking

Speed

of response

No Contract

Fully Insured

All service and repair work

is guaranteed
Let us Management and Track your Fleet Maintenance and Repairs Needs
We use specialized computer software that includes calendar management, tracking PM, DOT schedules and full-scale diagnostics. We can furnish reports that save fleet manager and operation team's time. This also allows you to analyze your costs with less time. Examples: Vehicle labor and parts operations, sales reports, vehicle expenses, recommended repairs.
Convenience
We bring our technicians to you. We performance up to 85% of all job onsite. If a job can't be done onsite, no problem! We coordinate getting your vehicle to our shop. We are a full-service shop, need tires or glass work? We are your one stop shop center. Leave it to Lehigh Fleet Services to handle your complete fleet maintenance and repairs. We work with you to customized a maintenance program based on manufacturer recommendations or tailored to fit your fleet needs. Our goal is to make managing your fleet as easy as making one call to Lehigh Fleet Services.