Lehigh Fleet Services specializes in mobile preventative maintenance, emergency road service and all types of repairs and services for fleet owners.
We eliminate the hassles of transporting your fleet of vehicles back and forth to a mechanic. We come to you at your location, saving you Time & Money. Our prices are the most competitive in the industry and our Mobile Workstations are operated by service technicians who can service all of your vehicles from passenger cars to heavy duty trucks.
Services that help fleets operate safely, run efficiently, remain on the road, and stay out of the shop.
Oil Changes
Brakes
Tune-Ups
Air Conditioning
Transmission Flushes
Coolant Flushes
Power Steering Flushes
Fuel Pumps
Starters
Alternators
Water Pumps
Batteries
Shocks
Tires
Glass
Electrical
D.O.T. Inspections
Engine Installations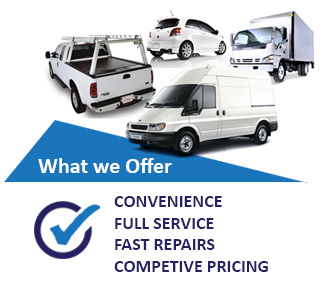 Parts, Labor & Service Guarantee
All parts are guaranteed by the manufacturers' replacement guarantee. All service and repair work is guaranteed for 30 days from the date of service.
Preventive Maintenance Program Features
We take the headache out of preventative maintenance by scheduling and tracking a maintenance and inspection routine that is right for your fleet. Our mobile workstations service all makes and models of vehicles from heavy duty to light duty keeping your investment in top running condition. We can also advise you on important maintenance procedures that will help prevent costly breakdowns.